Staying in shape can be difficult for a variety of reasons, we get busy, catch a cold, unmotivated, bored, the list goes on and on. I know I have come up with plenty of excused to not make it to the gym or indulge in one more piece of pizza but there are also many tools I have used to help me stay on track with my goals and to keep striving to get in the best shape of my life! Here are 8 simple tips I use to help eliminate my excuses and stay on track!
1.) Drink Plenty of Water
Making sure your body stays hydrated plays a big role with staying in shape. When your body is dehydrated it can cause joint or muscle pain, headaches, tiredness and kidney & digestion dysfunction because water helps with everything from regulating our body temperature to digesting your food & transporting nutrients. Drinking a glass of water before and after meals will also help you to stay fuller longer! So drink up buttercup!
2.) Get Active!
One way to get active is by joining a recreational sports team. With spring and summer right around the corner there are plenty to choose from (volleyball, kickball, soccer, baseball/softball, everything). Getting outside is another great way to stay active. With the weather warming up you can do anything from going for an outdoor hike, bike ride, kayaking or canoeing; these are all great ways to stay in shape and have fun while you're doing them. You can also turn any of these things into social events with your friends. You can even get an Activity Tracker to help you stay motivated to get moving! Check out our previous post for more information about Activity Trackers and how they work.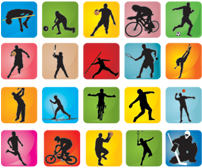 3.) Try Something New
Sometimes we fall into a routine of doing the same workouts again and again which can lead to us getting bored or loosing motivation with staying in shape. Switching up your workouts is not only a great way to stay motivated but it is key for staying in shape. Your body gets used to doing the same routines which will cause you to plateau and stop seeing progress. Try a group fitness class that you have never done before. Who knows, you could like it. Keep your body guessing!
4.) Stay Motivated
We all want to stay motivated but sometimes we just can't dig deep enough to find the motivation to get out of bed in the morning let alone make it to the gym. Sometimes you have to do it the good old fashion way. Post up inspirational photos or quotes in your bedroom, bathroom, kitchen or anywhere around the house for that matter! You have to use your bathroom every day, might as well throw some fun motivation in there to look at. Social media is another great way to stay motivated. Follow your favorite health or fitness gurus on Facebook, Instagram or Twitter, that way when they pop up on your news feed it will be like a jolt of motivation. Some people I like to follow are Paige Hathaway, Amber Dawn, Sean Sarantos & local fitness lover Sarah Bowmar, just to name a few! Creating health or fitness related Pinterest boards can also help. Fitness motivation, healthy recipes, new workouts, anything to keep you having a healthy relationship with your fitness journey.
5.) Schedule Partner Workouts
No one likes to cancel plans. When you schedule a workout play date with a workout partner, you are holding yourself accountable to come to the gym and get your workout on. There is no talking yourself out of it or giving yourself an excuse not to put in some hard work. The same thing would apply if you get a personal trainer to help hold yourself accountable by scheduling your workout times.

6.) Write down your goals
Who hasn't heard this one before? We all know we are supposed to write down our goals, but why? We know we want to healthier, fitter, leaner, stronger & better. Isn't that good enough? While all of those are great things to want, that doesn't really tell you much. Do you want to lose 5lbs, be able to squat 200lbs, get down to 15% body fat? Sitting down and writing out your goals, short and long term, will help you to clarify what you want and motivate you to get there. Make sure your goals S.M.A.R.T. (refer to chart below). It will also help you see your progress and be able to celebrate your goals once you have reached them. Who doesn't like to celebrate? So write those goals down and conquer them!
7.) Keep a food log
This one can be a little bit harder to keep up on, but let me tell you what, IT WORKS. We all know how annoying it can be to have "those friends" that count their calories and are so picky about the healthy foods they eat. We aren't saying you have to be that extreme, BUT there are plenty of apps, "My Fitness Pal" and "Lost It" to name a few, that make it super easy to track your food intake every day so you can at least see where your calories are going. We know it's not going to be exactly dead on the nose with how many calories, carbs, fats and protein you have had but it give you a rough estimate. I have personally started using "Lose It" and it helps me not only to make healthier choices but to also keep me from shamelessly stuffing my face with food I shouldn't be eating. Foods I thought weren't so bad had me thinking twice. AND there is even a barcode scanner so you don't have to waste time searching for the foods you have purchased from the store. There are also countless restaurants on the app that you can search and put into your food log while you're out to eat. On days that you have eaten better and feel better, those are the days you can look back on to motivate you to keep up with your progress. It helps those of us that are visual learner see what we are putting into our bodies and help us to make better choices.

8.) Progress pictures
I know some people are over this whole "selfie" tend but taking progress picture whether it be once a day, once a week or once a month can help you see the improvement you are making over time. You see your body and the way it looks all day every day, so it is harder for you to notice the small transformations you are making. When you take progress photos, you can look at them side by side and take more notice to the amazing way your body is changing. It may sound silly, but this will help you stay motivated and stay on track to keep pushing toward your goals.